As the marketplace moves online, the majority of leads are not going to do business with you in the first instances. Lead nurturing becomes a key component of one-to-many marketing automation. The whole experience of the way leads interact with marketers and receive input from them becomes more process-based and systematic. Marketers can now collate a complete set of data based on the leads' history of interaction to qualify them further down the marketing funnel.
This 'input' that marketers offer to leads is valuable content that educates, keeps them engaged and warms them up. A consistent and automated dissemination of content establishes a strong brand presence at the top of prospects' minds even as leads and marketers do not meet, until the leads send a strong signal like filling in a telephone number in a form or agreeing to a product demonstration. When online lead nurturing can produce such revealing data, that's how powerful and effective the marketing process can become.
Consider the following factors in setting up a proper lead nurturing campaign:
1) Set your goals.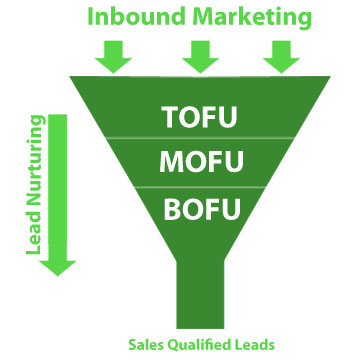 In popular understanding, there are 3 parts to a marketing funnel:
a) ToFU (Top Of The Funnel or Awareness stage): The prospect is experiencing a problem and requires knowledge to better understand what he is going through and why.
b) MoFU (Middle Of The Funnel or Consideration stage): Having understood and defined the problem, the prospect is considering the various options to solving it.
c) BoFU (Bottom of The Funnel or Decision stage): The prospect has shortlisted possible solutions to his/her problem and will finalize his purchase decision.
The goals of each part of your funnel is to prepare your leads with the necessary information and usher them to the next part. They always have a choice to opt out, thereby disqualifying themselves out of the funnel, but you want to focus on the leads that remain in the funnel.
2) Define your market persona.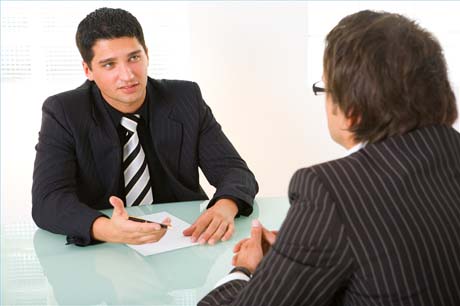 Before the marketing process begins, you must first define the type of prospects to target. Instead of spending important advertising dollars on drawing in the wrong set of prospects, construct a market persona based on the majority of your customers and concentrated around their needs and wants. By creating a buyer persona and nailing down your clients' needs, lifestyles and even apprehensions, you will have the capacity to think of a ready answer to address your clients' challenges. By placing ourselves in the shoes of our prospects, we can better pre-empt their purchasing decision. It's so much more effective to zero in on the right leads this way because it is very difficult to measure the degree of favorable response to mass marketing.
To give you a hint, you can start by asking current customers or prospects the following questions:
Role:
What is your job role? Your job title?
How is your job measured?
What is a typical day?
What skills are required?
What knowledge and tools do you use?
Who do you report to? Who reports to you?
Goals:
What are you responsible for?
What does it mean to be successful in your role?
Challenges:
What are your biggest challenges?
How do you overcome these challenges?
Company:
What industry or industries does your company work in?
What is the size of your company (revenue, employees)?
Watering Holes:
How do you learn about new information for your job?
What publications or blogs do you read?
What associations and social networks do you belong to?
Personal Background:
Age
Family (single, married, children)
Education
Shopping Preferences:
How to you prefer to interact with vendors (email, phone, in person?)
Do you use the Internet to research vendors or products? If yes, how do you search for information? What types of websites do you use?
As your leads answer these questions, you will find it easy to segment them in order to present to them the most appropriate content in their context. It also demonstrates your perfect understanding of their needs and challenges at any particular point in time, thereby maximizing the impact of your marketing messages.
3) Design your content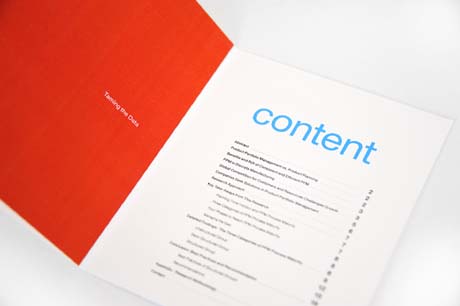 As you are already aware, the content in your emails plays a major part in lead nurturing by influencing the thinking process of your readers to be in line with your goals. The mindset behind your writing is to identify a problem and the need to solve it, impart knowledge and benefits, and emphasize action and accompanying results on the readers' part. The regularity of messages queued and released on schedule within a workflow enables you to build ongoing relationships with your prospects/clients while keeping them engaged.
Although the content may be carried within emails, the content itself can take many forms, like a whitepaper, blog post, video, webinar, infographic etc. You could start with offering general advice that reflects the depth of expertise your company has. Instead of mentioning your products or services straight away, write some tips that your readers can easily apply themselves to solve low-level problems when they are in the ToFU or BoFU stage.
Overdeliver in this aspect of content marketing to the point when you have no choice but to propose a commercial solution to a larger or high-level problem. By then, your leads should also feel comfortable and find you trustworthy as a solutions provider. Even so, there is yet another way to qualify different types of buyers according to low-ticket, mid-ticket and high-ticket purchases. It is not very often that prospects will buy big-ticket items if they can't perceive such a value. You can "whet their appetite" for future purchase by offering a cheap product like a more exclusive e-book, a recorded video tutorial, a 2-hour solutions-based coaching session etc. And only when they are ready that you can invite them for a free demonstration or trial use to orientate them for your flagship product.
Therefore consider how your emails are designed to deliver content that guide your leads along a well-defined buyer's journey.
4) Set a timeline for your marketing funnel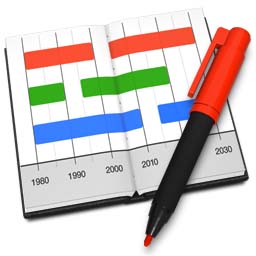 This correlates with point 3 regarding the length of time by which you can afford to overdeliver on free content to nurture your leads. Although there is no fixed rule of thumb to how long the time could be, it is said that 75% of your leads buy within 18-24 months. It also depends on the degree of sophistication of the product or service you are selling. How you come to settle down on a definite timeline depends on how much content you have come up with and how you space them out at regular intervals. Be free to experiment with the way you sequence your content delivery, but it is of utmost importance that you must trust yourself that you did all you can to win over your prospects with your selling proposition, and thereafter you must discard the leads whom you perceive as remaining disinterested.
5) Define metrics for marketing campaign performance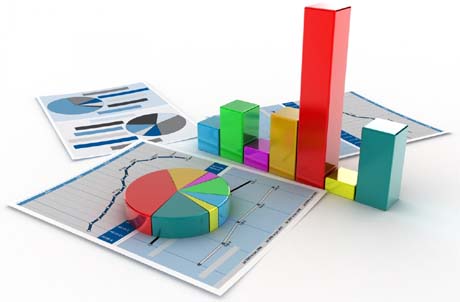 Testing and tracking for results remains to be an integral business practice for all forms of marketing, therefore you must define the result metrics of your lead nurturing campaign or sales cycle, such as email open and click-through rates, social media reach (retweets, Facebook likes, fan/follower growth rates, impressions, shares etc.) and lead conversion rate. Metrics are the details that tie in with the goals mentioned in point 1.
As time goes, you will begin to discern and separate the non-performing marketing strategies from the good ones, and you want to improve or filter out the non-performers and concentrate more energy on the ones that work. Results will influence your future decisions on how to tweak the offers you send, the email subject lines, calls-to-action, content, landing page design etc. As the saying goes, "the biggest room in the world is the room for improvement."
There you have it: the 5 major aspects of a successful lead nurturing campaign. In summary, you first determine your goals and metrics and how long you expect to reach them, know who you are targeting and identify what content to disseminate. The setup process can be time-consuming, but in the spirit of Inbound Marketing*, ultimately it will be beneficial to improving your lead quality at lower cost and your bottom line.
Are you generating enough leads for your business? Not satisfied with the quality of your leads as you hoped for? If you like us to examine your lead nurturing process, call us or write to us for a free consultation so we can give you a FREE website assessment and take your business to the next level!
* Inbound Marketing is a form of digital marketing that involves SEO, Social Media, blog and landing pages to generate sales leads.