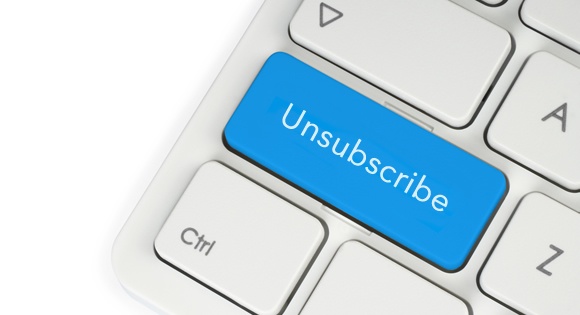 Every marketing channel has its own benefits and challenges, and email marketing and management gets trickier as the database size grows.
Nonetheless, email marketing remains popular because the contact database is considered the 'lifeblood' of any business.
Monitoring the email unsubscribe rate is therefore crucial to understanding how your email campaigns have failed to serve your audience in their best interest. If you notice that the unsubscribe rate or spam reporting does not seem to reduce with every email you send (note that an acceptable unsubscribe rate is 0.5%), it is definitely time to re-examine your email marketing strategy.
Here are 8 ways you can improve your email marketing while lowering the unsubscribe rate:
1) Provide excellent content: Let's face it: you are not the only marketer whose emails your subscribers read concerning your niche, so in one way or another, you are vying for their attention with other competitors. Instead of sending product offers all the time, vary the content with industry news and tips to appeal to your readers in a holistic manner.
Some content types and formats include blog posts, infographics, videos, podcasts, presentations, Q&As, interviews, subscribers' contribution etc. I further elaborate on content consistency in point no. 2.
Now, there is an unspoken symbiosis in the list which makes e-mail marketing profitable at all, and it is this: the list-builder/email marketer is the leader; subscribers are followers. Loyal subscribers are likely to be a reflection of your thinking. They share in your skills and knowledge as well as shortcomings. No subscribers who are smarter than you would ever need to learn from you; that's my logic. The smart ones subscribe to you for every reason other than to learn from you. If you get what I'm saying here, you will figure out how to exceed your subscribers' expectations with great content.
2) Be consistent: Consistency matches with what your subscribers would expect to read on which specific day of the week so they won't be surprised on missing out. Even as you vary your content, you want to establish a particular day and time when you will send an infographic or an interview without fail. An established emailing pattern puts your subscribers at ease so they become aware there is a certain planned progression in the way content is presented.
3) Offer customized email frequency: One big reason why you have unsubscribes even if your content is good is that your readers find too many emails to handle in their inbox. To rectify the problem, provide an option whereby leads can choose how often they read your emails: immediately on 'send', once a week (in the form of a digest), once a fortnight, once a month etc. This option not only occurs in the opt-in form, but also appears in every email you send, and even as they unsubscribe, this option appears on the unsubscribe page as a final effort to save your subscribers.
Whichever mailing service you purchase into, check with the Support staff to see how you can incorporate this email frequency feature into your landing pages and emails.
4) Localization or Personalization: Personalizing your emails is a big deal because it gives the perception that the content speaks to each individual's concerns instead of to the collective. Through personalization, you can also learn more about your subscribers from the data they have given you and their subsequent responses to the emails. Take advantage by maximizing personalization or sending location-based content.
5) Segment your list: What makes personalization even more effective is the fact that your subscribers are segmented into various lists of shared properties, i.e. based on interests, location, company size, age, gender, education level, geography, job position, industry, purchase history, income level or other distinctions.
A list with shared properties provides a common context in which your email begins to look relevant to everyone in the list, therefore they are less inclined to unsubscribe. Start small and work towards creating unique campaigns for many different segmentations to make the most of your list.
6) Offer exclusivity: One way to build on campaign uniqueness is to offer exclusive access to promotions, sales, discounts offers and contests to selected lists, and state explicitly that your subscribers should feel "so lucky" to receive something which others do not. Attractive offers from time to time does make it difficult to unsubscribe from future emails.
7) Solicit feedback from unsubscribers: You may have seen a short multiple-choice survey asking why you unsubscribe and be given reasons to choose from, like "I no longer want to receive these emails", "I never signed up for this list", "The emails are inappropriate" etc. This data is helpful for you to know why your former subscribers leave and to improve on your email campaigns in order to lower unsubscribes in the future. Again, consult your mailing service staff to find out you can incorporate this survey in your unsubscribe page.
Ensure your email design is optimized: As more people read their emails on mobile, marketers need to carefully consider how best to present their content, whether it is necessary to trim down content (be light on text and graphics) due to smaller screens and the on-the-go lifestyle and whether their audience is still predominantly desktop users, therefore sacrificing mobile users is worth the trade-off, etc. These factors will influence how your email design will stay relevant with the times so that you can provide several options to the way your emails are read on different devices.
Understanding why people remove themselves from your list—and knowing how to re-engage with them—can help you maintain a healthy audience for email readership. Giving customers what they want is also crucial in keeping them engaged. Of course, I'm sure there are more than 8 major ways to bolster your email marketing effectiveness while reducing unsubscribes. Share with us in the comment section below what you do to lower unsubscribe rates.